Healthcare incident and patient safety reporting and management
Nuance Risk Management powered by the Clarity Healthcare SafetyZone® Portal is a web-based, healthcare incident reporting and patient safety management system that enables you to collect and analyze data, facilitate internal communication, manage follow‑up, and foster organizational learning to support all your risk, quality, and safety initiatives. Foster a patient safety culture and protect data confidentiality when used with Patient Safety Organization Reporting powered by Clarity PSO.

Benefits
Achieve high reliability
Nuance Risk Management is not just a home for data—it's a driver for improvement. Transform virtually any reporting, education, and safety process including adverse events, patient complaints, safety drills, discharge callbacks, and employee surveys into simple electronic processes that can be accessed organization‑wide. It is easy to use and flexible, making it a perfect fit for any organization, from large academic medical centers, critical access hospitals or ambulatory facilities to physician practices, hospice, and home health.
Increase incident reporting up to 50%
Clients experience an average reporting increase of 20%‑50%.
Accelerate action
Improve productivity and enable action with automated workflow and real-time communication.
Comply with reporting requirements
Easily produce reports required by outside agencies.
Foster collaboration and integration
Facilitate communication and share knowledge across departments or locations.
Features
Monitor and intervene with customized reporting
Customizable and scalable
The system can adapt as your organization grows and regulations change.
Reporting and analytics
Aggregate, filter, and analyze in ways that will support strong decision making, leading to measurable outcomes.
Workflow management
Track follow‑up actions in real time and never lose data to "the shuffle." Assign reviewers as needed or set advanced notification criteria per user. Ensures all necessary reviews are timely and traceable.
Turnkey system‑wide access
Access seamlessly on any computer across your organization.
---
Enhancements
Improve patient safety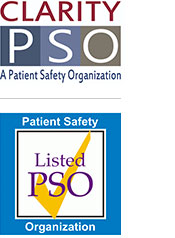 (Open a new window)
Nuance helps organizations to foster a patient safety culture providing data confidentiality protections through partnership with the Clarity PSO.
(Open a new window)
The Clarity PSO offers healthcare providers the opportunity to participate in patient safety and quality improvement efforts without the risk of losing the protection of data confidentiality or fearing discovery in the case of potential litigation. Access to a national Healthcare Advisory Council provides evidence‑based recommendations on issues that surface.
Complementary solutions
Enhance your performance with these solutions
Nuance Performance Analytics
Improve clinical, financial and patient outcomes with real-time data analytics and decision support for quality management, CDI leadership and patient safety teams to track, analyze and benchmark performance.
Nuance Quality Measures and eCQMs
Simplify core measures abstraction and submission that provides daily updates to help improve core measure monitoring and compliance.
Ready to take your performance to the next level?
Contact us to speak to a quality specialist.