Intelligent automated conversations with a human touch
A conversation with Nina is virtually human, understanding everything your customers do to maintain a truly consistent voice for your brand.

Automation that reduces costs while creating effortless experiences
Meet Nina, the Nuance Intelligent Virtual Assistant, designed to deliver an intuitive, automated experience for all your digital channels by engaging your customers in natural conversations using voice or text. No matter if you want to add a virtual agent to your website, app, text messaging application or your TV, Nina offers your customers a consistent experience in any digital channel. A familiar voice will answer their request whether it's typed into a computer, tapped on a screen or spoken into a device.
Nina enables an intelligent, human‑like dialogue between consumers and your brand. A rich set of features, including the ability to understand complex inquiries, ask clarifying questions and personalize responses, helps brands to deliver a superior customer self‑service experience. Nina is a well‑designed virtual assistant who can reflect your company's unique image and tone, resulting in a strengthened brand.
Each conversation can be captured, analyzed and aggregated to deliver real‑time insights. Nina becomes smarter over time by learning from past and current live agent interactions, and other engagements happening in your digital channels to constantly optimize the behavior and improve the accuracy of the responses.
Get our latest resources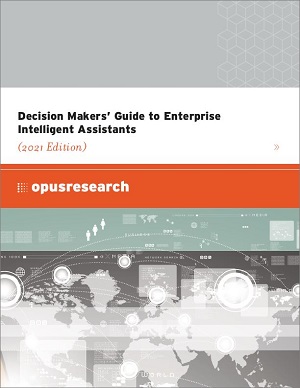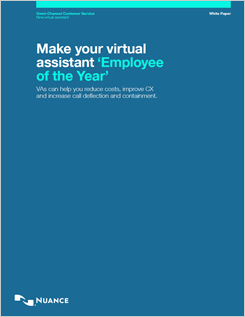 (pdf. Open a new window)
Efficient
A virtual agent provides the quickest way to give customers the answers they need, using natural conversation. Nina understands complex questions and delivers the right solution without leaving your customer to choose between options.
Consistent
The Nuance Natural Language Understanding (NLU) technology allows you to offer a consistent experience across digital channels: web or mobile browsers, inside your app, via SMS, messaging apps like Facebook Messenger, the TV or home speakers like the Amazon Echo. This ensures the quality of service your customers expect.
Enterprise‑ready
Nina is built for large enterprises, supporting each company's unique brand, data privacy and security, and system integration requirements to deliver complete solutions and high ROI. Nina allows a faster time to market with pre‑loaded, industry- and business‑specific knowledge and expertise.
Engage the right visitor at the right time
Learn how Nina leverages Nuance Natural Language Understanding technology to interact with visitors with human‑like dialogue and intelligent conversations, providing a smooth transition to a live agent when needed.
Why organizations rely on virtual assistants
44%
of shoppers prefer to use chatbots rather than speak to a live agent.
90%
of consumers expect a consistent experience across channels.
84%
of customers try to find the answer to their question using a brand's self‑service application.
Features
The intelligent virtual assistant
Nina learns, understands and keeps up with everything your customers do.
Natural conversation
Nina's ability to understand complex questions ensures that your customers receive the right answer, always and no matter where they are. Nina recognizes the intent of your customer's inquiry with high accuracy, personalizes responses based on context, and troubleshoots using conversational strategies like answering social questions, reacting appropriately during customer frustration and escalating to a live chat agent, if needed. By enabling multimedia content as part of your customer engagement, you can target your visitors with videos, offers and more—and give them a truly personalized online customer service experience.
Smarter Learning
Nina Coach leverages our artificial intelligence technology by utilizing a combination of machine learning and Natural Language Understanding which enables Nina to be trained with industry specific knowledge and your unique business data for a faster time to market with a more confident virtual assistant. Optimization during conversations with your customers and new information learned by observing the human colleague are automatically fed back into the system to make your virtual agent even smarter over time.
Seamless integration
Nina is designed once and can then be deployed in any digital channel immediately or later on. That avoids the typical siloed application development that is usually seen on the market. In addition, Nina Coach seamlessly integrates into human‑assisted engagements by either consolidating with a hidden coach or transferring all important data when switching to live chat, ensuring that the user experience is never interrupted.
Secure
Nina ID uses secure multifactor authentication through biometric voice recognition to ensure your customers are who they say they are without ever leaving the virtual agent conversation. They can be automatically authenticated by saying a simple spoken passphrase or taking a selfie. Nina ID adds an unmatched level of security and fraud prevention to conversations happening on your website, within messaging apps and even via SMS.
Looking to build your own virtual assistant?
Do conversational AI your way with Nuance Mix—a new DIY tooling platform
Learn more
Turn mobile phones into a customer engagement channel that delivers unmatched results and ROI.
Encourage customers to message instead of calling in, directly from a variety of Google experiences, such as Google Search, Google Maps, and others.
Interact with your TV or set‑top box in a natural way to reduce friction and optimize your living room experience.
See how Nuance IVR to Digital can optimize the customer experience by helping callers move seamlessly from the phone to a digital experience.
Learn how the Nuance Prediction Service uses machine learning to project why customers engage and create highly personalized experiences that improve satisfaction and business results.