Collect more, spend less.
Nuance proactive notifications for collections enables you to send payment reminders to customers across channels – voice, text, email and push notification – so you can collect more, more easily.

Welcome to collections in the cloud
Are you ready to collect more using fewer resources? Nuance proactive notification for digital collections is a cloud‑based platform that empowers your company to reach customers and send payment reminders sooner than ever before.
Send interactive voice and text messages, emails and push notifications to customers who are past due – and encourage self-service to accelerate payments. These proactive, automated interactions help your company get ahead of other creditors while freeing your collectors to focus on more complex issues. All to reduce the time and cost of treating delinquent accounts. And all to improve your default management and loss mitigation processes.
Click here to see your potential savings with our ROI calculator.
Get our latest resources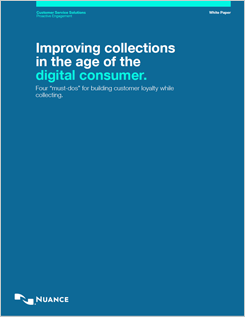 (Open a new window)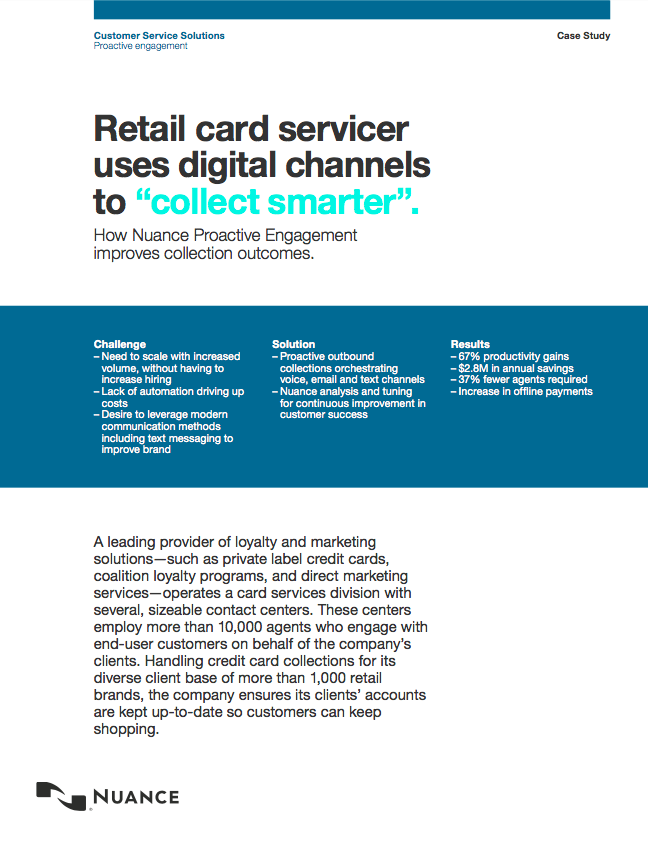 (Open a new window)
Take your collections strategy to the next level
It's time to collect smarter and leave your dialers behind. Nuance proactive notifications for collections outperforms predictive dialers – at a fraction of the cost. See how we can help you reach your customers across digital channels.
Collect Smarter with Omni‑Channel Engagement for Banking
Creating digital outreach for smarter collections, ones that collect more and cost you less should be one of the key focuses for your collections strategy. Nuance's Omni‑Channel technologies can help encourage past due customers resolve their delinquency through self‑service and provide an enhanced customer experience.
Brandon's digitally engaged lifestyle enables him to stay connected to his accounts, even with his busy schedule. He's set up alerts in his account setting to keep him updated and remind him when payments are due. While Brandon is in a meeting at work, he receives a call from Sphere Bank regarding his account but he's not able to talk at the moment. Aware that he didn't pick up the call, Nuance's Omni‑Channel engagement technology sends him a text message rather than leaving a voicemail.
Brandon clicks the link and is brought to a micro‑site powered by a Nina virtual assistant. Using voice biometric authentication, Brandon easily verifies his identity to access his account. "At Sphere my voice is my password." Once verified, Nina, the friendly, automated, virtual assistant provides a helpful offer regarding a payment plan to help Brandon get back on track with his account.
Working with Brandon, Nina is able to come up with a customized payment plan that fits with his current financial situation. Nina confirms the payment and the future automatic payments that will be drawn from Brandon's checking account. Then to insure that Brandon is getting top level service, Nina also sends a text message confirming the transaction and providing the number he can text to for future, channel‑of‑choice outreach to Sphere.
A text reminder and system intelligence allowed Brandon to take advantage of a special offer to get his finances in line. Voice biometrics quickly and securely authenticated him and the Nina virtual assistant seamlessly processed his payment and updated his account information for future automatic payments.
These omni‑channel technologies provided a great customer experience through Brandon's preferred channel which providing flexibility and efficiency via cross channel integration and contextual intelligence.
A win‑win for your collections and your customers.
Collect Smarter with Proactive Notifications
Chasing past due bills is hard. Research shows, consumers are increasingly forgetful. Costs are rising. Budgets are shrinking. And regulatory risk is always top of mind. Relying on your old predictive dialer isn't going to help. Dialers can't text. Dialers can't email. Dialers don't do digital. Dialers can only make calls, and it's they're increasingly bad at that – annoying customers instead of motivating them to pay. If this sounds familiar, if every day you're struggling to collect more while spending less. Then it's time for a change.
Fortunately, in the pocket of nearly every American lies the answer – the smart phone – your ticket to delivering the results your organization expects. Today's customers prefer getting text, email and push notifications rather than phone calls. These digital channels grab their attention and make it easy for them to pay their bill using the device that rarely leaves their side. Take your collections strategy to the next level.
Leave your dialer behind and gain the power to orchestrate your outreach, shifting channels and messages until your target cures their delinquency. Leading companies in banking, telecom and utilities have found intelligent automated outreach from Nuance routinely outperforms predictive dialers at a fraction of the cost. It's time to re‑invent your collections process. To be more proactive, to reduce your costs, and improve your cure rates.
Your customers' phones have gotten smart. Have your collections strategies?
Better default management
With Nuance proactive notifications for collections, you can orchestrate omni‑channel voice, email and text interactions with customers—and boost the impact of collections treatments.
Better use of resources
By automating the collections process in early delinquency, your company can allocate collectors to higher-risk accounts, which in turn lowers costs and increases overall collection rates.
Better customer experience
Self-service options enabled by Natural Language Understanding technology make it easy for customers to pay using a conversational dialogue in voice and text channels.
Proactive notifications produce engaging results
67%
A large credit card issuer increased their account-per-collector ratio by 67% (1500 to 2500), driving up productivity by treating early-stage accounts with interactive messaging instead of collectors.
3X
A major eastern utility company nearly tripled their pay rates – increasing collections by 188% – after adding email payment reminders to treatment timelines.
19%
A credit card issuer received 19% more self-service payments versus agent interactions by using messaging to steer customers to easy-to-use IVR or web payment options.
Features
Automate collections to accelerate payments
Omni-channel contact strategy
Sometimes one call is all it takes – but these days, it often requires more to collect a payment. Automate your collections software with Nuance. If an interactive voice message is not answered, the proactive notification platform automatically shifts channels, using text, email or push notifications to send a payment reminder or bring a past-due account to your customer's attention.
Increasingly mobile consumers often ignore phone calls, preferring to communicate via SMS alerts instead. Nuance proactive notifications uses Natural Language Understanding to engage customers in a two‑way text conversation capable of negotiating payments or promises—without agent intervention.
Message personalization
Since no two customers are the same, your messages shouldn't be either. Personalize each engagement by incorporating customer attributes and leveraging both explicit and implicit preferences. All to create a more meaningful interaction that produces more meaningful results.
Learn how Nuance proactive notifications for collections makes it easy to collect more, with less.